[Call for Participation] Water and Gender Equality Contest for Youth Engagement in the Asia and Pacific region
2022.07.11 13:55:31
|
1252
본문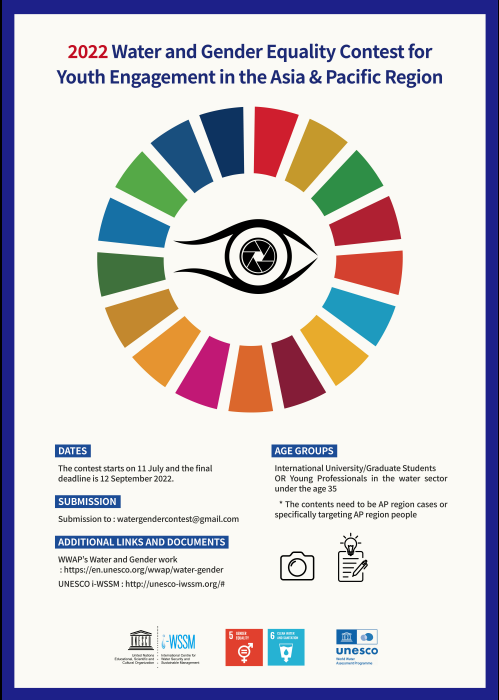 The UNESCO International Centre for Water Security and Sustainable Management (i-WSSM), and UNESCO World Water Assessment Programme (WWAP) invite youth and young water professionals in the Asia and Pacific region to take part in the 'Water and Gender Contest for Youth Engagement'.
Women and girls are disproportionally exposed to water-related challenges, such as waterborne diseases, limited access to water, education and training, and water scarcity - issues which are one-by-one exacerbated by rapid climate change. UNESCO's work towards the global priority of, gender equality includes raising global awareness on the aforementioned issues and breaking with business-as-usual through the promotion of gender-transformative change and true paradigm shift. In line with UNESCO's Gender Equality Priority, WWAP is facilitating a Multi-stakeholder Call for Action 'Accelerating gender equality in the water domain for catalyzing global cooperation and urgent but concrete action on gender issues in the field of water. i-WSSM is dedicated to creating diverse opportunities for discussion around gender equality in water as a member of WWAP's Call for Action Multi-stakeholder Coalition, and promoting the initiative to build a consensus among the international community to achieve Sustainable Development Goals.
The first 'Water and Gender Contest for Youth Engagement in the Asia and Pacific region' is a unique
opportunity for showcasing successful stories that improve and promote gender equality at the regional,
national, and community levels. Moreover, this provides a platform for the promotion of youth engagement
towards the realization of a gender equal water domain.
Contact : watergendercontest@gmail.com